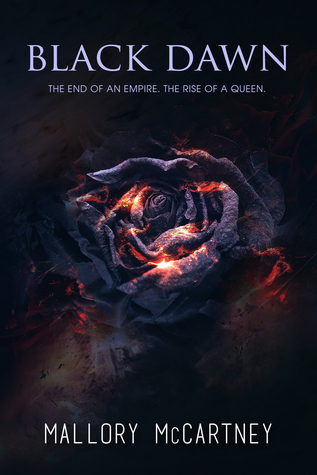 from Goodreads.com :
The end of an Empire, The rise of a Queen

Emory Fae enjoys leading a quiet, normal life. That is until two mysterious, and handsome soldiers show up at her apartment, and the life she knew is instantly whisked away. Memphis Carter and Brokk Foster come from the magical and war ridden world of Kiero, and upon Emory's arrival she will discover she is the long lost heir to the Royal Line and is thrown into the Black Dawn Rebellion with a dynamic role to ignite the rebels and reclaim her throne.

With both men being darkly woven in her past Emory uncovers hidden secrets, a power held long dormant, and will soon realize there are worse things than supernatural humans, love, loss, betrayal, and a Mad King.

Some things are better left in the shadows.
My Take: This was a pleasant read and not a huge honking read. I liked the different perspectives from the different characters and even though I find fantasy reads a bit much at times and a little more work than I like in my pleasure reading this book was not like that at all. I would recommend this book if you are wanting to just dip your toe into the fantasy genre. Good story.
I received a review copy from Pump up your book in exchange for my honest opinion.