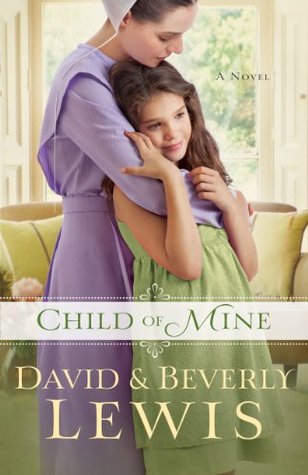 Child of Mine by David and Beverly Lewis
From Goodreads.com
Bestselling Author Duo Delivers Heart-Stirring Drama
Jack Livingston has been raising his nine-year-old adopted niece, Natalie, since the accident that took her parents' lives. While he travels for work, Natalie is lovingly cared for by Laura, an Amish nanny who loves her as her own.
Kelly Maines is nearing the end of her rope. Her baby was kidnapped, the apparent victim of a black market adoption ring, and for eight years, Kelly has tirelessly pursued every lead to its bitter end. Now, there's one last lead from a private investigator: Just a few miles away lives a girl who matches the profile. Could this, at long last, be her beloved child?
Desperately, Kelly initiates a "chance" meeting with Jack Livingston. It goes really well. So well, in fact, that Jack asks her out. One date leads to another, and before she can come clean with her original motives, Kelly realizes Jack is falling for her--and she for him.
Now how can she tell Jack why she's really here? And having gotten to know Natalie, what if she isn't her long-lost daughter, after all? This was all supposed to be so simple.
But nothing in Natalie's world is simple.
My Mini Take: I am calling this a mini review because I haven't finished reading this book yet. I have been hooked on Beverly Lewis Books ever since I read her Abrams Daughters Series. This book is turning into a great book just like those were. I find myself turning the pages just to find out what happens next. Although there is a picture of an Amish woman on the cover of the book this book is not really about the woman although she is an important character in the book. So if Amish fiction isn't your cup of tea don't toss this book aside. The book is very well written and you will find yourself caring about the characters. This is a great story.
I received a review copy of this book from Bethany House in exchange for my honest opinion.