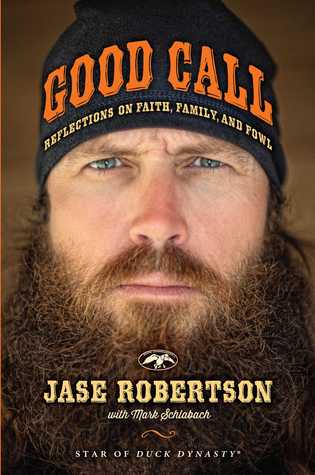 Good Call: Reflections on Faith, Family and Fowl by Jase Robertson and Mark Schlaback
Read by Jase Robertson and Missy Robertson
From Goodreads.com
The closer we look at the Robertson family, the more we discover the substance and authenticity below the surface of these well-known TV characters. In this enlightening book, Jase Robertson gives us a deep look behind his funnyman exterior. In addition to stories of life in the Robertson family and epic tales of hunting of all kinds, readers will get an inside look at Jase 's personal faith in the Creator of the outdoors he so dearly loves:
My first thoughts about God came in a duck blind as I gazed upon the diversity and beauty of creation. There is nothing in nature that can be reproduced or equaled by humans. None of our computers, microchips, or cell phones can duplicate what God has put forth. Viewing the details of this magnificent earth is better than any sermon from any preacher I have heard about the evidence of God.
More than a behind-the-scenes look at this beloved
Duck Dynasty
character, readers will be inspired and encouraged to implement Jase good call reflections on faith, family, and fowl into their own lives.
My Take: Although I don't regularly watch Duck Dynasty I have enjoyed listening to all the books that the Robertson's have released over the last year or so. This book is no exception. I enjoyed listening to Jase's and Missy's story. The part I especially liked was how they handle the knowledge of Mia's special needs and how they eventually helped other families in the same situation. All of the Robertsons seem to be exceptionally nice people and they are people that I would like to know. I like the way that they always turn to God in whatever situation they find themselves in. Even though they are well off now it wasn't always that way and they seek out the Lord in all their situations. Jase seems to have always had a good solid foundation and was always trying to witness to others. He even relays a story of when he had a confrontation with a girl's boyfriend and he witness to him in the midst of everything. That boyfriend ended up coming to church and getting baptized and is now a good friend of the family's. This book is just packed full of similar stories. I think you would like this book if you are a fan of the show Duck Dynasty or you just want an uplifting experience.
Audio: I sometimes like it when authors read their own books especially in the situation like this. I thought that Jase and Missy did a good job of narration but you could tell that they aren't professionals.
I received a review copy of this audio book from Simon and Schuster Audio in exchange for my honest opinion.