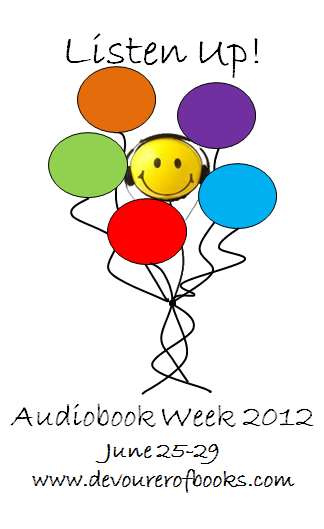 This is Audiobook week. I am late to the event but not to audiobooks. To find out all the nitty gritty of this week head over to
Devourer of Books
to find out all you need to know.
I have a few Audio books that I have listened to that I haven't gotten around to reviewing yet so those may be popping up on the blog this week. There are also going to be some discussion questions that will be coming up this week.
Here is the first one.
Are you new to audiobooks in the last year? Have you been listening to them forever but discovered something new this year? Favorite titles? New times/places to listen? This is your chance to introduce yourself and your general listening experience.
Hello My Name is Mindy and I am an Audiobook aholic. I have been listening to audio books regularly for about 6 years now. My Husband bought me a MP3 player that came with a free trial of audible and I have been hooked ever since. I mostly listen to and from work and for about 15 minutes before I go to sleep. I have gotten my husband to start listening to books over the last couple of years also. Depending on the length of the book I usually finish a book week in audio. But I have listened to some chunksters too like just recently I listened to 11/22/63 by Steven King. I have been able to listen to books that I know that if I would have tried to read them I wouldn't have been able to finish them. My favorite books to listen to are books by James Patterson, Diana Gabaldon, Lauraine Snelling, Shelley Gray, and Ted Dekker. I think listening to books takes us back to our first experiences with books when our parents first read to us. My Audible membership is one of my favorite things as I get to discover new audio books each month for a low price. I have over 200 books in my audio book library and that doesn't count books that I have on cd.