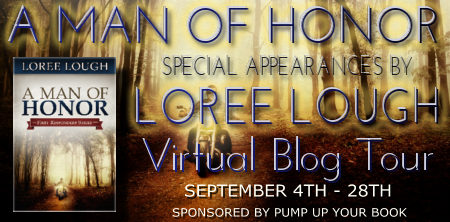 ABOUT LOREE LOUGH
ABOUT A MAN OF HONOR
Dusty and Grace find love together, but will it be enough to pull them through tragedy?
On a steamy spring morning, Dusty Parker—
part-time
pastor, part-time search and rescue team leader, and full-time administrator at a school for troubled boys—joins the search for a missing teen girl. He partners with volunteer and inner city school teacher Grace Sinclair, and what they find bonds them in ways neither could have expected.
As they
begin
to build a life together, a visitor from the past
causes
Dusty and Grace to further open their hearts and home.
But a dark and dangerous threat looms over their seemingly perfect world, and in one terrifying night…
…everything changes.
Watch the Trailer!
My Take: Loree has created characters that will live with you long after you have finished reading the last page. Dusty is truly a Man of Honor and Grace could be called a Woman of Honor. They both have things they need to work on but don't we all? This is the third in a series but it stands quite well on it's own. This book will have your emotions all over the place so be for warned of the emotional rollercoaster that is this book. This is a Christina book and faith is in the characters everyday lives. It is why they do much of what they do. I would highly recommend this whole series.
I received a review copy of this book in exchange for my honest opinion.